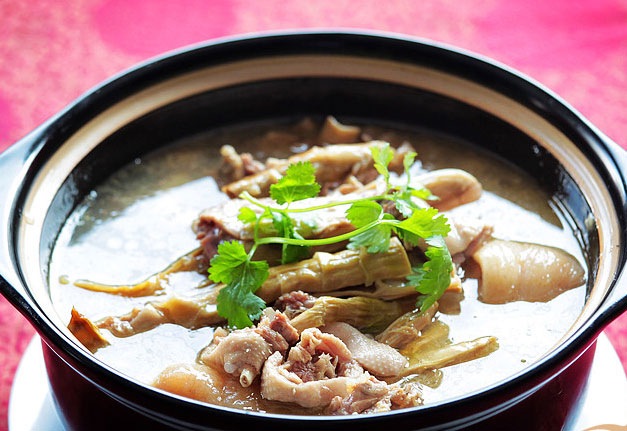 Guilin is famous "ginkgo stewed duck with Lingui the most is". Stewed for a long time after the clear soup taste, wonderful duck remained elasticity. Jiangsu and Zhejiang area popular duck pot, in contrast to feel greasy. Is a traditional tonic food, using Guilin specialty ginkgo, old duck pieces, ham and various ingredients, into Dunzhong formed on the cage steamed into. Its characteristics are delicious, tender duck ginkgo, Tang Qing taste, with nourishing Sheng Jin, Runfei Yiqi function. And ginkgo, also known as the ginkgo, nutrition is rich, the summer should eat the most. Ginkgo can also do drugs: cough, phlegm, diuretic, Bufei, menstruation, ginkgo stewed duck can be said to be in frequent micturition.
Preparation method of Ginkgo stewed duck:
1 ingredients: good old duck a slaughter wash, change the knife cut into pieces, ginger little peeled and sliced, ginkgo 200 grams of peeled, peeled, go to the heart. More than 2 ingredients together into a pressure cooker, add water about 8 cm high ingredients. 3 open fire boil...
桂林名菜"白 果炖老鸭"以临桂最正。久炖之后汤清味醇,奇妙的是鸭肉仍保持着弹性。江浙一带盛行的老鸭煲,相比之下顿觉油腻。 是一道传统滋补菜, 采用桂林特产白果、老鸭切块、火腿片及各种配料, 放入炖盅上笼火蒸而成。 其特点是鸭肉鲜香、白果滑嫩、汤清味浓, 具有滋补生津、润肺益气功能。而白果 ,又名银杏,营养丰富,夏天最宜食用。白果还可以做药:可化痰、止咳、利尿、补肺、通经,白果炖老鸭可以说是专治尿频。
    配制白果炖老鸭方法为:
    1.食材:上等老鸭一只宰杀洗净,改刀成块,黄姜少许去皮切片,白果200克去壳,去皮,去心。 2.以上食材一同放入高压锅,加水高过食材约8厘米。 3.开大火煮...
]