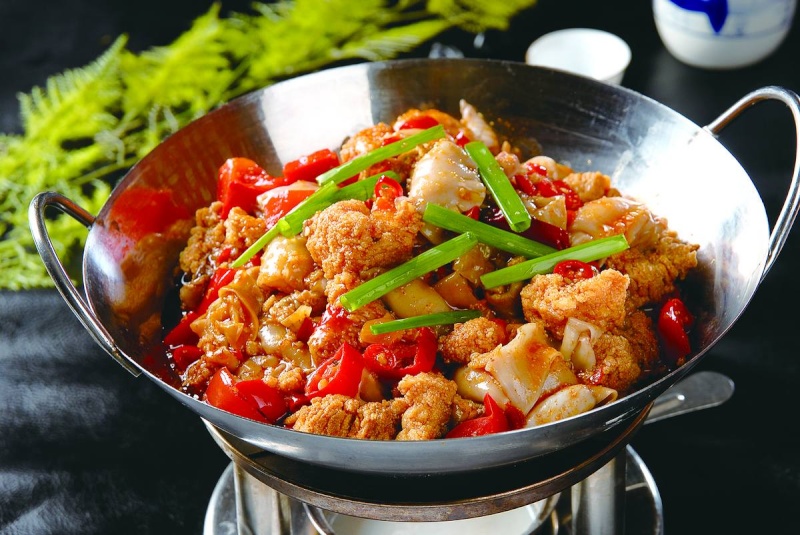 Fresh chestnut dry pot duck is the Guilin in Guangxi Food generation characteristics. Fragrant fresh sweet soft, moderately sweet and sour, Nuanwei spleen. Making this dish of duck to fat and tender, Li to full level, fry the fire to fire, small and uniform, not broken rotten keep chestnuts.
Materials: Duck 1 Hemp flowers only about 1500 grams, fresh chestnut meat 300 grams, ginger, green onion, pepper foam meter few.
Seasoning: salt, pepper, monosodium glutamate, Red oil, amount of wine.
Method: the duck slaughter wash cut into pieces, blanch to blood, drain water, six into the hot oil pot fry until four mature fish, keep the amount of oil in the pot, into the ginger, onion m saute duck soup, put the right amount? Wine spices and pepper foam seal stew cook to six into a rotten, put fresh chestnut meat and mix well and then stew to fresh chestnut cooked into the silver pot mat. 干锅鲜栗鸭是广西桂林的一代特色美食。香鲜甜软,适度酸辣,健脾暖胃。制作此菜的鸭要肥嫩,栗要饱满匀整,炒火要大,焖火要小且要匀,保持栗子不碎烂。
 用料:麻花鸭1只约1500克,鲜栗肉300克,泡红椒、姜、葱米少量。
 调料:盐、胡椒粉、味精、红油、料酒适量。
 制法:将鸭宰杀洗净斩块,焯水去血污,沥干水,下六成热油锅炸至四成熟捞起,锅中留适量油,入姜、葱米炒香放鸭?酒放适量汤、调料和泡红椒加盖焖煮至六成烂,放鲜栗肉拌匀再焖至鲜栗熟透倒入银锅上席。]