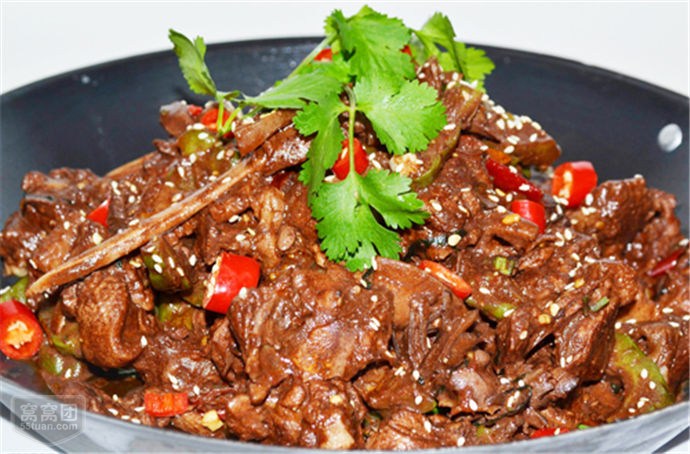 According to research, the Quanzhou bridge is the birthplace of vinegar blood duck, most GUI beiren all love to eat, but to do well if you take very skilled. In the north of Guangxi, especially in the area of Quanzhou, the feast or dinner table a dish of vinegar blood duck is a grand. But the stranger, this dish is very mysterious, with blood pouring down will make people feel terror. But it looks amazing, eat up but not what blood gas, it is vinegar flavor assail the nostrils, and duck soft and tasty. Duck delicious is the second, the best place is the bitter gourd, bitter gourd wrapped in "vinegar, blood, duck", and a sour ginger and pepper taste, bitter also bitter very touching.
Raw material:
Duck 1 (about 1250 grams), 200 grams of acid acid taro seedlings, ginger 50 grams, 20 grams of dried chili, acid red pepper 30 grams, Chen Qing, star anise, ginger, soy sauce, oyster sauce, soup, cooking wine, pepper, tea and other appropriate.
System of law:
(1) the duck slaughter leave vinegar blood bowl, go to Mao Xijing, broken abdominal evisceration, wash;
(2) the light duck cut into small pieces, acid in slices of ginger, pepper cut into small pieces;
(3) in wok, put the oil heat, put ginger, dried chilli, acid, acid red pepper, Chen Qing, Sha Jiang, star anise saute, add duck pieces, stir fry sauce, cooking wine, with small fire stew ripe, flavor, pour vinegar acid taro seedlings, Wang fire stir fry, sprinkle people pepper powder stir well serve or in the form Hot pot on the table.
Characteristic.
Duck pieces of dark reddish brown, texture, taste, salty sour, spicy flavor据考究,全州文桥是醋血鸭的发源地,大多数桂北人都爱吃,但要做得好的话就很考手艺了。在桂北,特别是全州一带,过节或请客时餐桌上来一盘醋血鸭才算得上隆重。但对外乡人来说这道菜很神秘,用血淋上去会让人觉得恐怖。但这菜看着惊人,吃起来却没什么血腥气,倒是醋香扑鼻,而且鸭肉绵软入味。鸭肉好吃是其次的,最出彩的地方是苦瓜,苦瓜裹在"醋、血、鸭"里,和着酸姜和辣椒的味道,苦也苦得荡气回肠。
原料:
仔鸭1只(约1250克),酸芋苗200克,酸子姜50克,干辣椒20克,酸红辣椒30克,陈庆、八角、沙姜、生抽、蚝油、高汤、料酒、胡椒粉、茶油等适量。
制法:
(1)将鸭子宰杀留醋血一碗,去毛洗净,破腹取内脏,洗净;
(2)把光鸭斩成小件,酸于姜切片,辣椒切成小段;
(3)起炒锅,放油烧热,投入酸子姜、干辣椒、酸红辣椒、陈庆、八角、沙姜爆香,放入鸭块、料酒煸炒,调味汁,加盖,中小火焖制入味成熟,倒入酸芋苗、醋血旺火煸炒,撒人胡椒粉翻匀装碟或以火锅形式上桌。
特点:
鸭块呈酱色,质地适口,咸鲜微酸,香辣浓郁]