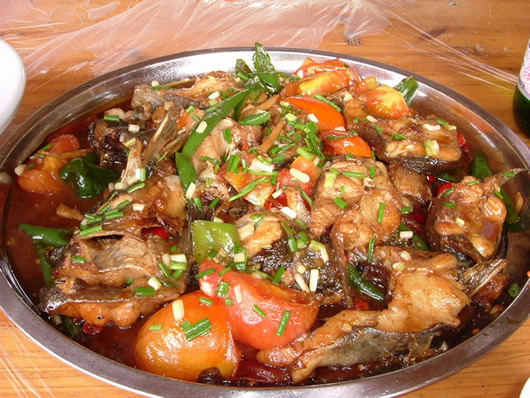 The rise of beer Lijiang fish began Yangshuo 80s of the 20th century. With the perfect combination of Chinese and Western cultures Yangshuo West Street, Yangshuo blend of Chinese and Western food styles are also formed in this new feature, its most representative than beer Lijiang River fish.
As the main raw material of fresh carp, grass carp caught from the chilly Lijiang, beer braised fish and then used the original part of the West's most traditional drink. Beer in cooking Chinese dishes for a bold attempt, eventually reaching a very unique place and hot dishes in Yangshuo, Guilin and even extended to the whole.
This delicious dishes and floating beer mellow, not only for the Chinese people's taste, but also by the appreciation of the guests from abroad Quartet and abroad.
So want to taste authentic beer fish friends, or go to the stalls Yangshuo.啤酒漓江鱼的兴起,始于20世纪80年代的阳朔。随着阳朔西街中西文化的完美结合,阳朔的饮食风格也在这种中西文化交融中形成新的特色,其最具代表性的莫过于啤酒漓江鱼了。
作为主要原料的鲜活的鲤鱼、草鱼捕自于清冽的漓江中,而用来红烧鱼的啤酒则原属于西方最传统的饮料。在烹饪中把啤酒用于中国菜肴的大胆尝试,最终创出了一个极具特色的地方名菜而火爆于阳朔,乃至扩展到整个桂林。
这种味道鲜美又飘着啤酒醇香的菜肴,不仅适合于中国人的口味,而且深受来自四方境外客人的赞赏,并享誉海内外。
所以想品尝正宗啤酒鱼的朋友,还是请到阳朔的大排挡。]